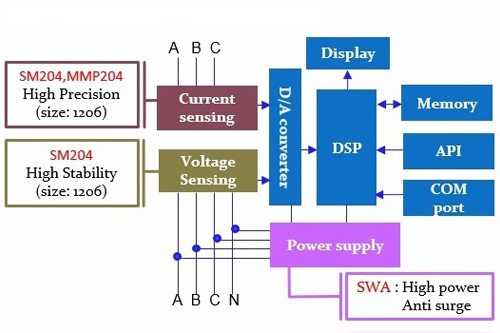 Long term stabilized resistors for meters
The environment of electric grid is complex and changeable, due to inrush pulses are frequently generated by thunderbolts or braker switching ON/OFF, caused large impacts on sensing voltage or current. In order to reduce the impacts on resistance variation, it is recommended to adopt MELF resistors for sampling voltage and current. In comparison to the chip resistors, the dimension of MELF resistors are 3 times larger than chip resistors, because of MELF resistors are cylindrical shapes with enhanced conductive film that greatly withstand high voltage and easy for heat disspation. Whether in function, mechanical structure, electrical characteristics, or safety, they are significantly better than the chip resistors.
---
Feature
★SM204 – For current/voltage sensing, Ultra stability and high pulse load.
★MM102/MM204 series - For current/voltage sensing (low TCR, long term stability and Anti-surge).
★SWA series(THT type) for Power module.
SWA is a wire wound axial resistor with superior Anti-Surge capability, it has granted worldwide patents of weld spot between wired metal alloy and metal electrode. It's the best alternative of VISHAx.
General Specification
Files Download